Chelmsford Turf Suppliers
Quality Turf Available to Buy in Chelmsford Today!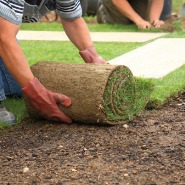 If you are looking for a wide range of quality turf in Chelmsford, you've come to the right place. George Davies Turf are suppliers of turf for homes and businesses – our turf is regularly used for domestic lawns, golf courses, bowling greens and large-scale landscaping projects.
You can order turf from us all year round and we will deliver to all areas of Chelmsford. We currently supply around 235 acres or 950,000m² of turf every year – we have many happy customers who continue to order again and again. From homeowners to green keepers, we have turf for everyone at George Davies.
Simply get in touch today and arrange to have your turf delivered to you. Call 01234 818 113 / 01727 238 071 or fill in our online contact form to place your order.
Turf in Chelmsford – a Variety of Types of Choose
We source our turf from reliable and reputable UK turf farms, ensuring we have good stock all year round. Here are some of the different types of turf you can choose:
Trident Turf - Our most popular all-round turf, Trident will take root and begin growing quickly. It's also good at withstanding harsh weather conditions and will continue to look good throughout the year.
Shade Tolerant Turf - This is a medium texture turf that grows well and needs very little maintenance. It uses grass cultivars that grow well without direct sunlight, so you don't have to worry about the shady spots.
Rhizomatous Tall Fescue (RHF) - A tough turf, designed to last in the harshest of conditions. It has deep roots that help it to stay healthy through a drought and cope with waterlogged ground. It can withstand lots of foot traffic.
Greensturf - Our most luxurious turf. This is most regularly used on golf courses and bowling greens, though it can also be used for premium lawns. It needs regular maintenance.
Wildflower Turf - Create your very own flower meadow in your own back garden. The turf is a mixture of 34 different flowers and grasses, creating the perfect environment for wildlife.
Artificial Turf - Artificial turf requires very little maintenance and can be laid anywhere – you won't have to worry about soil or weather conditions ever again.
Excellent Turf Paired with Excellent Service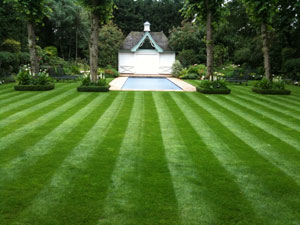 Thinking of ordering turf in Chelmsford? Here are some of the reasons why you should consider George Davies Turf:
- Our turf is of the highest quality and we have many varieties to choose from
- We source turf from well-regarded UK nurseries
- We are committed to excellent customer service
- Delivery is available throughout Essex and around Chelmsford
Our staff know all there is to know about turf. We all love to help our customers out, so if you have any questions at all, please just get in touch. If you're unsure which type of turf will be suitable for you, we will be more than happy to offer advice and a professional opinion.
Call 01234 818 113 / 01727 238 071 or fill in our online contact form to get in touch with the team.