OUR BLOG
Millboard is a type of decking that's handmade in the UK and styled from real oak timbers "creating an incredible realistic look that captures the natural beauty of wood". If you're looking for a deck that has a great deal of natural character, a slip resistant surface, stain resistance and low maintenance, then Millboard is a fine option. Hand-crafted from natural timbers, it combines resin and mineral stone to form a durable structure, whilst ensuring it's almost indistinguishable from real wood. This type of composite decking is not just practical, stylish, durable and affordable, it's versatile too – with a huge range of options available:
Enhanced Grain
Weathered Oak
Lasta Grip
Fascia Board
Edging Strips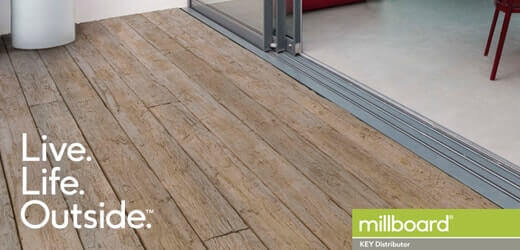 Why should you consider a wood-free decking?
Many people consider this type of deck because they want the natural finish of wood without the drawbacks. For example, this composite decking is completely wood-free and as a result, non-porous, meaning it offers high resistance to algae growth and excellent anti-slip properties. With the dual-tone Lastane® surface, you're guaranteed a stunning appearance coloured by hand, using pigments that are specially designed to resist fading and sun damage. It's designed to perform excellently all year round, and here at George Davies Turf, we've supplied this popular form of composite decking to a diverse mix of customers, for a range of landscaping projects, including swimming pool borders, summerhouse decks, BBQ areas and sun lounge spaces. Here are just a few more of the rewards you'll reap if you're to choose this beautifully engineered product:
Splinter free, perfect for young children or pets.
Made in the UK, offering a low carbon footprint.
Plenty of options, including matching fascia boards as well as step edge boards.
Very simple to clean and maintain, with no sanding or staining ever required.
Lightweight for a simpler installation.
There are absolutely no special tools required.
Unlike natural wood, there is almost no expansion or contraction; so you can achieve closer joints for a strong and safe surface.
Environmentally friendly – no need to cut down trees.
Why buy composite Millboard decking from George Davies Turf?
Popular in homes, hotels, pub gardens, restaurants, holiday villas, apartments and cafes, Millboard composite decking has given many homeowners and businesspeople more than a few reasons to shift away from natural timber decking. We've developed a strong partnership with Millboard Composite Decking, now very much seen as a leading name in the industry for high quality decking options, so we're able to provide the complete range of products, and we can even offer free samples, allowing you to see the astonishingly real finishes up close. Whether you prefer a rustic look or a more clean and contemporary finish, our friendly team can guide you through the complete range of options, including Enhanced Grain and Weathered Grain finished.
To learn more about Millboard, or to speak to us about your needs, please call 01234 817 614.