Turf Suppliers in Amersham
Looking for turf suppliers in Amersham? Look no further than George Davies Turf. We have been supplying the area with turf for many years and for many different purposes. Our product range extends to both Natural and Artificial Turf, to whatever requirements you desire. So, whether you need turf for your garden, golf course, commercial project or housing development – our team of experts are dedicated to meet your requirements. Our logistics fleet are fantastic with meeting the tightest of deadlines, and you can be rest assured that you will receive the best quality turf for your requirements. We supply turf for both the residential and commercial market, so get in touch with us today to discuss your requirements.
Ideal Turf for Landscapers – Commercial & Domestic
Our objective here at George Davies turf is to provide you with the best option for turf possible – which is why our prime grade turf is highly sought after. Our services extend to homeowners, businesses, landscapers, landscape architects, local authorities, sports clubs, golf courses and more. We also stay at the cusp of the latest technologies and developments, and we're always finding ways to refine the quality of our turf. Our lorries for example, have telescopic manitou forklifts mounted and fitted within – so we can place your turf exactly where you need it. So, whether its to be placed on your driveway, in the middle of a golf green or football pitch, you can rest assured that we will fully comply with your requirements, and take extra care at all times. We also house a 30ft chiller unit at our premises, to ensure that we can supply quality crisp turf consistently, regardless of where you're located in the area of Amersham.
Our ordering service is straight forward and simple and our friendly staff are second to none when it comes to customer service, and will run through everything with you.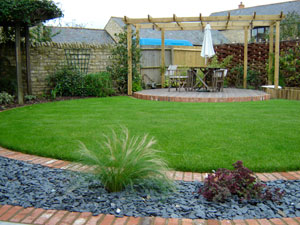 Why Choose George Davies Turf?
We have been in the Turf industry from as far back as we can remember! Our team as well as George himself are experts when it comes to all things turf… which is why we are passionate than most on what we do. Other reasons to choose us for your turf requirements –
We've been supplying the area of Amersham for many years and are familiar with the location. We sell on average 950,000 m2 of turf a year throughout the UK.
Our turf is grown and cultivated from a reputable source; so, you know you'll get quality each and every time.
Our Turf is Fresh and Affordable – and we provide great value all year around
Our fleet of drivers are professional, polite and prompt and can apply safe social distancing where necessary.
We provide both Natural and Artificial Turf, as well as a whole host over other related products.
Get in touch today for a free personalised quote
Get in touch today and get your project underway! Placing your order of turf has never been easier – simply get in touch with our team and they will consult with you and your requirements. To find out more about our products and services call us today on 01234 818 125 or 01727 238 149, or alternatively use our online functions to calculate your requirements and get your price.