OUR BLOG
George Davies is always looking to do something new. Yesterday marked another first for George Davies Turf; we took a group enthusiastic, skilled and motivated landscapers to Millboard HQ in Coventry.
Millboard is a market leading, high value product and you want it to be installed by someone who knows what they are doing. How do you find someone who feels comfortable installing a premium product and producing the kind of finish that product demands? You find yourself an Approved Installer!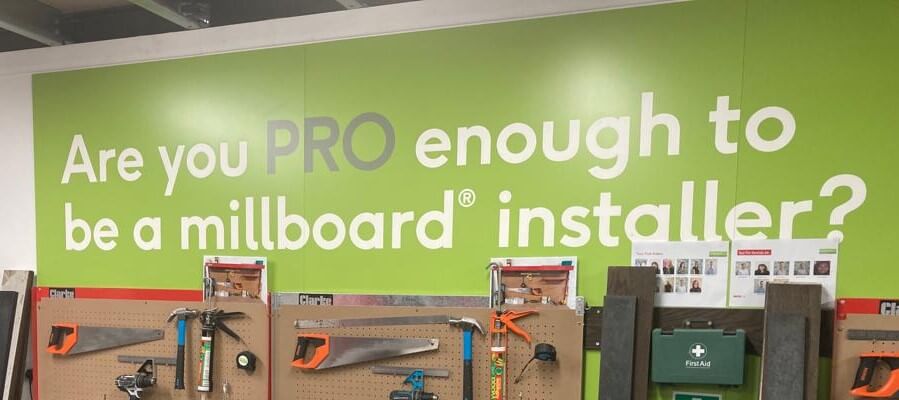 This trip was all about learning and strengthening the bonds between landscaper-supplier-manufacturer. We wanted Millboard to hear about the challenges that landscapers face when undertaking a project and who better to tell them than the landscapers working in your gardens producing new outdoor spaces and enhancing old ones.
Firstly we had a look around the new showroom at Millboard HQ. This was to see the different styles and colours and how they could be used to enhance customers' outdoors spaces. After this we had a talk from Nick Hardy, The Midlands Millboard Guru, about the product and the company and just why buying Millboard is great for the landscaper and the end user.

Our appetites were well and truly whetted as Sam Whiteside, Millboard Approved Installer Instructor, took us all around the classroom and workshop area. He showed us the things that would be covered by the Approved Installers Course. The big boys toys had us all hooked, and he really is a font of knowledge at Millboard and that is a resource that is only available to Approved Installers.

After lunch, we were taken on an exclusive tour of the Ryton-on-Dunsmore factory, where Millboard is made to incredibly exacting standards. Products are tested every single hour to destruction to make sure that it meets the benchmark for quality. Groups were taken around by Harvey Douglass Operations Director for the factory and shown the ins and outs of how a board is made and ends up in a pallet to be shipped to landscapers around the world!

A day to remember and hopefully, GDT will have introduced 14 new Approved Installers to the books to help create beautiful outside spaces in your gardens.