OUR BLOG
Welcome to the new GDT Turf Blog!
We take pride in sourcing and selling the highest quality of turf at a fair and affordable price - after all, we strive to be remarkable in everything we do. As such, we decided it would be a good idea to release fortnightly blog articles, with topics ranging from adverse weather conditions (hello Storm Doris!) to new products/ services you can expect to see from us in the near future. This allows us to keep you well informed about what we're doing behind the scenes and to provide key advice that is useful when buying, laying and caring for your turf.
SO WHERE DID IT ALL BEGIN?
George Davies Turf was created in 2001 by the man himself, starting out with just one trailer, delivering 40 rolls of turf a time. Shortly after this, he managed to buy an aging, beaten up Mercedes lorry (photo below) which, at its peak, was delivering 1200 rolls of turf a day. These were all hand balled off by George himself, and at approximately 20 tonnes per day, it kept him plenty fit and strong! Although we had limited tools and a growing customer base, this didn't stop us from maintaining our excellent delivery standards and high quality products across the board. Realising in 2003 that his back would not take it forever, George decided to buy an old Volvo lorry with a Moffett (photo below), taking our standard of service to a new level by being self contained and placing turf exactly where the customer wanted it. This was the real start of things to come. George saw a gap in the market in the Milton Keynes area for high quality yet affordable turf, and the business evolved from there.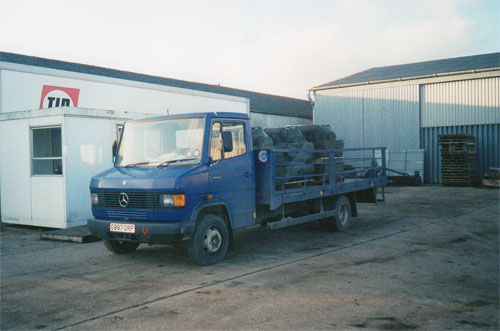 Our first lorry...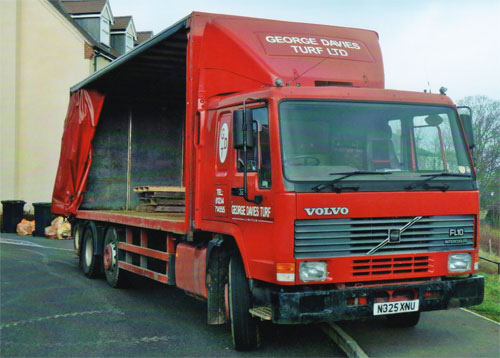 ...and then the Volvo...
WHERE ARE WE NOW?
Sufficed to say, it wasn't long before we needed to add more, superior vehicles to our fleet in order to keep up with business demands. The business grew exponentially, going from having just the two delivery vehicles in the beginning to the large company fleet we have today - and we're not slowing down any time soon! 16 years on and we are now supplying and delivering anything from one roll of turf to entire golf courses/ sports pitches. We are now operating from 2 depots, based in both St Albans and Olney, and have a growing team committed to providing the best possible service to our customers.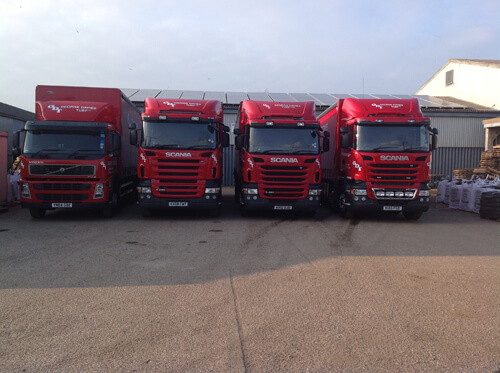 ...and now some of our current fleet!
AND WHAT CAN YOU EXPECT FROM THIS BLOG?
We source our turf from three different farms across the UK in order to consistently provide the highest quality products for our customers. We'll be taking a closer look at these locations throughout the blog series, so watch this space!
Our aim for this blog is to ensure that not only are we providing all of the necessary tools and information to ensure that our turf is sold, kept, laid and maintained at the highest standards, but also to keep you updated with any exciting new developments at GDT. You can expect various topics to be explored, from our top tips on caring for your turf to how to cope with seasonal weather changes and product comparisons. Our dedicated, knowledgeable team are always on hand to answer any queries you may have, so please do not hesitate to get in touch with us.
- Isabelle